Check the correct Backup File has been selected
Click OK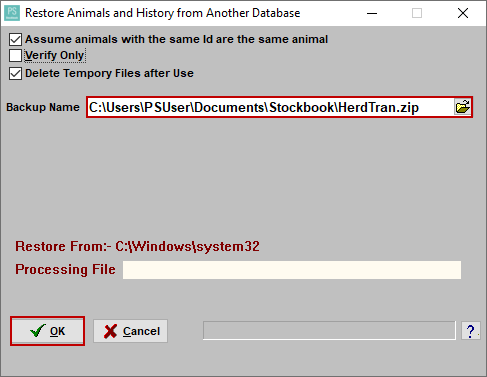 The reason we are doing this data isolation process is that Stockbook assumes that all the IDs are unique, and will attempt to merge the animals with the same ID.


Confirm you are happy to proceed with restoring animal and history details from another database.



Step 4. Temporary Restore

Click OK on the pop-up information box asking you to continue with the restore


Once you are comfortable with the data being as clean as possible and will have a low risk of merging, repeat Section 1 Transferring Animals Out of a Stockbook Database, emphasis on Step 6. Choose Data to be Transferred. If there is any excess data you do not wish to import follow the directions in Step 6. Choose Data to be Transferred.
Step 2. Restoring Animals and History into Data Quarantine Area