Single Touch Payroll - Cashbook User Access
What is Cashbook User Access:
Single Touch Payroll (STP)
is a government initiative that requires businesses to report pay details to the ATO digitally. A payroll report goes to the ATO everytime you pay staff. It works by sending salaries and wages, PAYG withholding, superannuation liability from Cashbook to the ATO as you pay your employees.
This is the login that an employer will use to make STP submissions. This is called your Cashbook Login.
To enable Cashbook User Access:
Click on

Users

>

Enable

menu options.

After enabling User Access, you must create an administrator account. Administrator users can manage user accounts, reset forgotten passwords, etc.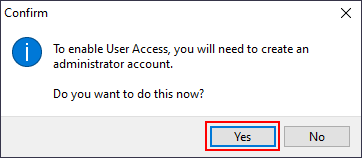 In the Add Users window enter:
Username:

A unique name to identify the user.

Full Name:

User's full name.

Administrator:

Is this account for an administrator? Administrators have additional access (see

User Accounts

).

Password:

A user must be given a password when created. The user can change their password at a later date, and administrator users can reset passwords if they are forgotten.

Click on the

Add SuperChoice Details

button. (If this user is authorized to make Single Touch Payroll reports to the ATO and they have a user account with SuperChoice, the details can be added here.)
For example: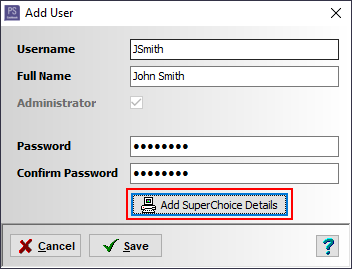 In the SuperChoice Login Details window:
Enter

Username

.

Enter

Password

.

Click

OK

to continue.
For example: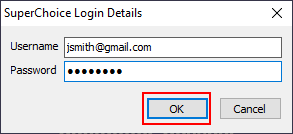 Click on the

Save

button.